SHEEP AND TREES FUNDING PACKAGE
Posted on
Forestry Commission Scotland has opened up a new funding opportunity to help hill and upland sheep farmers boost their business potential.
A special funding package under the Forestry Grant Scheme will now help farmers integrate new woodlands between 10 ha and 50 ha into their farms.
The Sheep and Trees Forestry Grants Package will enable farmers to apply for a woodland creation grant and the forest infrastructure grant for the same area at the same time. This allows farmers to build access routes whilst also getting grants to get new woodlands established.
A typical 50 ha woodland could receive up to £200,000 for woodland creation and up to £40,000 in infrastructure grant aid. The funding will not affect an applicant's Basic Payments.
Jo O'Hara, Head of Forestry Commission Scotland said:
"It is vital that farmers can continue to keep their sheep on the hills. Our new grants package can support this through helping them integrate woodlands into their business, increasing its commercial viability.
"Carefully managed woodlands can increase farm productivity and provide many other benefits too. The funding package creates an excellent opportunity to diversify and take advantage of land previously not considered possible due to a lack of access.
"Creating new woodland can offer sheep farmers an added flexibility to manage their land to its best potential and keep a regular income coming in."
Benefits of creating new woodland through the new funding package can include:
Providing important shelter and extended outwintering periods;
Improve farm business productivity – particularly on less productive land;
Help in providing more manageable grazing units;
Significantly improve on-farm access through well planned roads; and
Growing a valuable capital asset and having a source of timber and potential income stream.
In creating the Sheep and Trees Forestry Grants Package, Forestry Commission Scotland has consulted the NFUS and National Sheep Association.
Applications for this funding are welcome all year round and for further information visit: www.forestry.gov.uk/scotlandgrants
CROFT WITH PLANNING PERMISSION FOR RESIDENTIAL DWELLING TO NORTH EAST OF DUART, 2 KINLOCHEWE
A croft, extending to 0.51 hectares (1.26 acres), (subdivsion pending), benefiting from
Planning Permission in Principle (ref: 19/00857/PIP) for the erection of
a detached dwelling house, ideally situated in the village of Kinlochewe.
News Headlines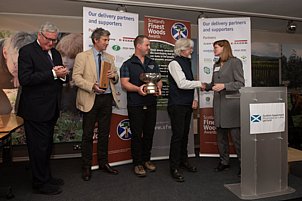 Bowlts' foresters, Dr Ben Lennon and Ben Watson, recently attended the Royal Highland Show in June, with the owner of Scaniport Estate, James Ba Full Story...