SCOTLAND FINEST WOODS AWARD
Posted on
Bowlts' foresters, Dr Ben Lennon and Ben Watson, recently attended the Royal Highland Show in June, with the owner of Scaniport Estate, James Baillie, to receive one of Scotland's most prestigious forestry awards. Darroch Wood on the Scaniport Estate, Inverness was awarded the 2019 John Kennedy Trophy for Multi-purpose Woodlands in the Quality Timber category. Presented by Scottish Government Cabinet Secretary, Fergus Ewing MSP, with First Minister Nicola Sturgeon MSP in attendance, the award recognises the high quality of the timber and multiple purpose benefits created in this woodland, which has been managed by Bowlts forestry team on behalf of the estate for the last twenty years.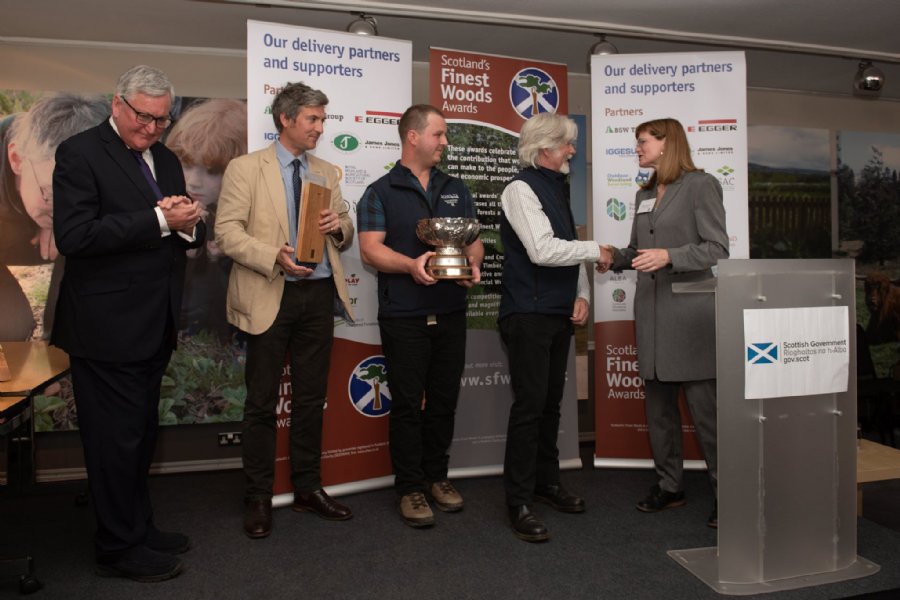 In their summary, the judges concluded that "The stands of Douglas Fir and Larch in Darroch Woods can only be described as magnificent, both in terms of timber quality and visual appeal. The conifers run into extensive oakwoods and both provide an exceptional backdrop for the network of footpaths through the wood and the walking/cycling route between Inverness and Dores. This is high quality recreation. The owner is committed to managing the woods as continuous cover forests which will safeguard the social, economic and environmental benefits for the long-term and given the quality of the timber, the woods currently, and will continue, to provide a significant economic benefit for the owner."
We are delighted that our client's efforts and commitment to their woodlands has been recognised in this way.
RESIDENTIAL DEVELOPMENT SITE,
MUIRHEAD, KINLOSS, MORAY
Forres 4 miles Elgin 9 miles
An attractive residential building plot in a secluded rural setting near Kinloss.
Planning Permission for the erection of detached dwelling house and double garage.
Site extends to 0.14 Hectares (0.35 Acres) or thereby.
Mains water and electricty nearby.
Uninterrupted views to the south-east over open farmland
COVID-19 PANDEMIC
UPDATE ON SERVICE DELIVERY AT BOWLTS CHARTERED SURVEYORS
We continue to monitor and act on guidance from the Scottish government, NHS and other relevant agencies to ensure the safety and wellbeing of our clients, team and the wider public.
Steps taken include:-
our team continue to work in the main, remotely from home;

in line with government guidelines, we are avoiding unnecessary travel;

physical attendance at conferences and events has been suspended and only essential meetings, such as property viewings for let properties, etc, are being undertaken;

recommended hygiene and social distancing procedures are being observed and implemented.
Our remote working systems have operated well, aided to a large part by our capable and highly motivated team, who continue to work hard to ensure that our client service is maintained. We remain very grateful to them for this and for their continued support in what have been challenging times for everyone.
Video call and conference facilities continue to meet our need for meetings and, as everyone has become more used to this way of communicating, have proven highly useful in ensuring business can go on, insofar as possible, as normal.
In the meantime, our team can still be contacted by way of their usual phone numbers or email addresses, as well as via our main office number.
As always, our principal aim remains to ensure the safety and wellbeing of our team, clients and the wider public, whilst providing the services our clients require.
Thank you for your continued support and please do stay safe.