LAND SURVEY SERVICES
---
Surveying is a key element to planning, design, building and on-site verification. Throughout Highland and Grampian, we provide a comprehensive service to clients, including engineers, construction firms, solicitors and private individuals, supporting them in all aspects of surveying.
Survey Services for Engineering and Construction
We offer a full range of topographic surveys on any size of project, from basic site outlines to complete records of all site features including levels. The superiority of our state-of-the-art Trimble optical, electronic and satellite measuring equipment allows us to work to an exceptionally high level of accuracy (<5mm), delivering output in a very short time.
Surveying for Legal Issues
Our work in the measuring, processing and production of title and lease plans fully meets the requirements of the Registers of Scotland.
We can help with:
Setting out & site engineering works
Large and small scale Topographic surveys
Volumes, sections and profiles
Building elevations
GPS surveys
Title plans and investigations
Tree surveys
Level surveys & Contour Maps

Flood risk surveys
River maps and cross sections
Access investigation & design
Quarry surveys
Deformation monitoring
Pipe route surveys
Windfarm Projects
---
For further information on our Land Survey services, please email Caroline Cook or phone her on 01343 610813. Alternatively, you can visit our survey website at www.bowlts-surveys.com.
CROFT WITH PLANNING PERMISSION FOR RESIDENTIAL DWELLING TO NORTH EAST OF DUART, 2 KINLOCHEWE
A croft, extending to 0.51 hectares (1.26 acres), (subdivsion pending), benefiting from
Planning Permission in Principle (ref: 19/00857/PIP) for the erection of
a detached dwelling house, ideally situated in the village of Kinlochewe.
News Headlines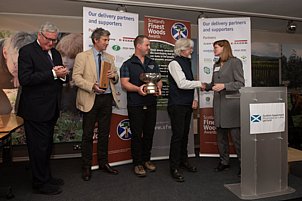 Bowlts' foresters, Dr Ben Lennon and Ben Watson, recently attended the Royal Highland Show in June, with the owner of Scaniport Estate, James Ba Full Story...