GIS/MAPPING
---
We can provide a comprehensive GIS/digital mapping service to clients, from creation and management of data, to complex data analysis and high quality presentational output.
We can assist landowners, forestry owners, researchers, developers, authorities and other organisations to capture, use and manage their locational based data more effectively. Whether your project is large or small we have the resources and GIS expertise to assist.
Using the industry standard ESRI ArcGIS software, we can work other key organisations, including Forestry Commission, SNH, Scottish Government and Crofters Commission, as well as engineers and developers to exchange, often rapidly changing, data.
We offer a wide range of services including:-
Data Management
GIS Analysis
Map Production
Thematic Mapping
Landscape Visualisation
---
For further information on our GIS/Mapping service please email Caroline Cook, GIS Co-ordinator or phone her on 01343 610813 or visit our new survey website on www.bowlts-surveys.com.
CROFT WITH PLANNING PERMISSION FOR RESIDENTIAL DWELLING TO NORTH EAST OF DUART, 2 KINLOCHEWE
A croft, extending to 0.51 hectares (1.26 acres), (subdivsion pending), benefiting from
Planning Permission in Principle (ref: 19/00857/PIP) for the erection of
a detached dwelling house, ideally situated in the village of Kinlochewe.
News Headlines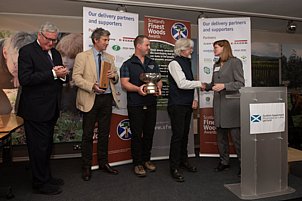 Bowlts' foresters, Dr Ben Lennon and Ben Watson, recently attended the Royal Highland Show in June, with the owner of Scaniport Estate, James Ba Full Story...