VALUATIONS
---
Valuations combine the whole range of expertise offered by us. Obviously, the value of any individual property reflects the market at any particular moment, but it also depends on a wide range of physical and environmental factors. However, different values must be applied to reflect the myriad of reasons for which valuations are required - whether sale or purchase, death or divorce - and it is in the art of bringing together all these factors that our comprehensive knowledge and local experience can prove invaluable.
We are able to offer you:
A speedy, efficient and confidential response.
An accurate estimate of a property's worth for any given purpose.
Advice on problems and/or development opportunities.

Professional and detailed reports
Detailed local market knowledge and experience.
Ongoing support for sales and purchases.
---
For more information on Valuations please contact email Atholl Newlands or telephone him on 01343 610802.
CROFT WITH PLANNING PERMISSION FOR RESIDENTIAL DWELLING TO NORTH EAST OF DUART, 2 KINLOCHEWE
A croft, extending to 0.51 hectares (1.26 acres), (subdivsion pending), benefiting from
Planning Permission in Principle (ref: 19/00857/PIP) for the erection of
a detached dwelling house, ideally situated in the village of Kinlochewe.
News Headlines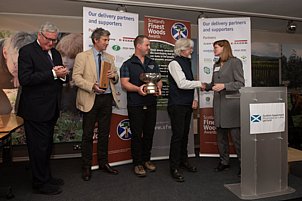 Bowlts' foresters, Dr Ben Lennon and Ben Watson, recently attended the Royal Highland Show in June, with the owner of Scaniport Estate, James Ba Full Story...