The Scottish Rural Development Programme 2014 - 2020
---
The Scottish Rural Development Programme 2014-2020 delivers Pillar 2 of the EU Common Agricultural Policy (CAP). It funds economic, environmental and social measures for the benefit of rural Scotland. The key purpose of the SRDP 2014-2020 is to help achieve sustainable economic growth in Scotland's rural areas and the priorities remain broadly the same as the previous programme:
The main priorities are:-
Enhancing the rural economy
Supporting agricultural and forestry businesses
Protecting and improving the natural environment
Addressing the impact of climate change
Supporting rural communities
After extensive negotiations the SRDP 2014-2020 was formally approved by the European Commission on the 26th May 2015.
---
For further information on The Scottish Rural Development Programme 2014-2020, please email Dr Ben Lennon or phone 07717 227682.
CROFT WITH PLANNING PERMISSION FOR RESIDENTIAL DWELLING TO NORTH EAST OF DUART, 2 KINLOCHEWE
A croft, extending to 0.51 hectares (1.26 acres), (subdivsion pending), benefiting from
Planning Permission in Principle (ref: 19/00857/PIP) for the erection of
a detached dwelling house, ideally situated in the village of Kinlochewe.
News Headlines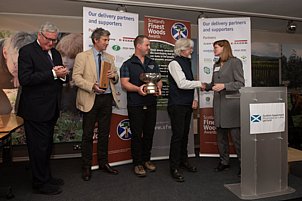 Bowlts' foresters, Dr Ben Lennon and Ben Watson, recently attended the Royal Highland Show in June, with the owner of Scaniport Estate, James Ba Full Story...